Zz - EN-02 - SplashDrone 3+ - Waterproof Floating Professional Drone
We have two SwellPro Drones on offer: The Spry+ as the entry-level drone, and the SplashDrone 3+ as our top product:
Fully waterproof body with tough material

Extended flight time up to 25 minutes

Smooth flight & smart remote controller

Power-Flip function when floating
Flight control feel tuned.
| | |
| --- | --- |
| Waterproof Level: | Surface Buoyant (short periods up to 600mm deep) |
| Drone Weight:  | 1447g (without battery) |
| Axis Diameter: | 450mm |
| Max Ascend Speed:  | 4m/s |
| Max Descend Speed:  | 3m/s |
| Max Flight Speed: | 20m/s (ATTI mode) |
| Max Flight Altitude: | 200m (GPS) / 1.3km (ATTI) |
| Max Flying Wind Speeds:  | a. Typical Maximum = 8m/s (11-16knots)(F4) b. Typical Gusts = 12m/s (22-27Knots) (F6) Peak |
| Hovering Precision:  | ±0.5meter |
| Max Flight Time (per charge): | 20 ~ 23 minutes |
| Max Flight Range: | 1.6km |
| Max Flight Weight:  | 3KG |
| Max Payload Capacity: | 1KG |
| Positioning Satellite:  | Dual Satellites - GPS/GLONSS |
| Flight Controller:  | Swellpro S3 |
| Motor: | #3510/620KV |
| ESC:  | 40A |
| Propellers: | #1242 carbon fiber quick-fit propellers |
| Working Temperature: | -10℃ ~ 40℃ |
| Battery Types:  | 4S 15.2V 5200mAh LiHV battery |
| Battery Weights: | 561g (5200mAh LiHV) |
| Charging Time: | 90 minutes |
| Remote Control | |
| --- | --- |
| Weight:  | 660g |
| Frequency:  | 2405 ~ 2475HMZ |
| Range:  | 1.6km (unobstructed, free of interference) |
| Receiver Sensitivity(1%PER):  | -105dbm |
| Working Current:  | 160-300mAh |
| No. of Channels:  | 10 |
| Battery: | 2S 7.4V 1800mAh lipo battery |
| Video Transmission | |
| --- | --- |
| Frequency: | 5645 ~ 5965HMZ |
| No. of Channels: | 40CH |
| Range: | 1.6km Max |
| Power: | 200~600mW |
| Screen Size: | 5inch |
| Screen Resolution: | 800X480Pixels |
| Screen Brightness: | 500 cd/m2 |
New features and improvement exclusive to the SplashDrone 3+
New access match lid with air pressure equalization allows altimeter accuracy without permitting water entry
Powerful Propulsion System
The new S3 flight controller, integrated with new sensors and a powerful propulsion system, allows for greater sensitivity and accuracy than ever. This means you can fly SplashDrone 3+ safely and smoothly with more confidence on water, in rain and snow.
The S3 constantly checks for errors and offers redundancy to improve flight stability. The dual-mode GPS locks onto up to 24 satellites from the GPS and GLONASS systems for improved accuracy and speed of positioning.
Redesigned carbon-fibre propellers are light and stiff to efficiently transform the motors' power into thrust. A new quick-fit design enables fast and secure attachment of the propellers to the motors.
The powerful new motors provide strong performance, speed and lifting capacity. A special coating system ensures maximum resistance to salt water corrosion and power delivery for take-off from water and in heavy rain.
Power and maneuverability to fly in winds up to Beaufort Force 4 (18mph/28 kmh) with gusts to Force 6 (31mph/49 kmh).
All in One Remote Controller
The SplashDrone 3+ comes with a custom designed, fully integrated remote controller. Redesigned controls maximize ease-of-use and efficiency, while a fully integrated, high-brightness 5" FPV screen clearly displays live video and overlaid (OSD) flight data without the need for any additional equipment. Flight control, payload release and camera controls are all at your fingertips.
Switch the remote controller into the Cruise mode and you will be able to pan (yaw) and fly the SplashDrone 3+ simultaneously with a single joystick, making your flight path smoother for more cinematic footage.
Go from joystick to fine knob control of drone rotation, direction or orbit - great for smooth videos and accurate flight.
Add the GroundStation option and your mobile phone or GPS-enabled tablet can take control of the SplashDrone 3+ with your fingertip! The Swellpro FLY APP enables several smart flight modes, which drastically reduces manual input from the pilot, making flying the SplashDrone 3+ even easier.
The SplashDrone 3+ will constantly follow and turn towards you as you move at a max speed of 20km/hour, recording awesome selfies.
Tap to select waypoints on a map and the SplashDrone 3+ will execute the mission on command.
Select a circling radius and the number of orbits to capture the perfect video with your chosen subject always in the middle of the frame.
Tap on the map where you want your drone to go and SplashDrone 3+ will navigate to the destination and hover.
SplashDrone 3+ includes multiple layers of protection to keep your aircraft safe and help ensure your drone comes home safely.
If the signal is lost, the SplashDrone 3+ returns to the starting point and lands gently. You can also tap Return-Home on the app or flick the Return-Home switch on the remote controller to retrieve the drone.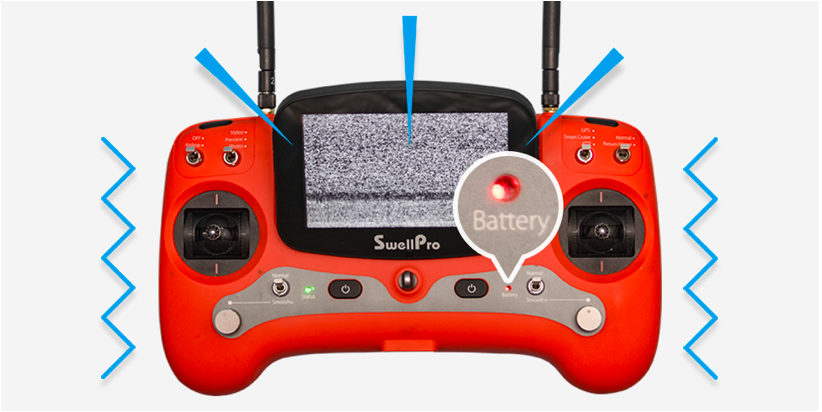 During flight, if the battery voltage reaches a two predetermined warning levels, the remote controller will display a clear flashing notice for the pilot.
When the battery is almost completely drained, SplashDrone 3+ will execute an in-position auto landing to prevent a crash.
Lost Drone Location Beacon
If you inadvertently lose or crash your drone out of sight, you will instantly have the drone's location pinpointed on the APP's map, even with low batteries. (GroundStation module required).
Self-righting when floating
If the aircraft is inverted when on the water, the SplashDrone 3+ can flip itself right-side-up on command - ready to take off again.